With the Server Control Panel Plugins you can extend your JoomISP to create with few clicks the ordered Webhosting Package on target Server with its installed SCP software.
Following example is based on the installation process from the ISPConfig Plugin. All other SCP Plugins can be installed with the same way!
Installation of the ISPConfig Plugin
Download the latest JoomISP Server Control Panel Plugin.


Login to your Joomla Administration and navigate to the Extensions Manager (Extensions → Extensions).


At the point Install and in the Package file upload section select Browse to the file, and click Upload & Install.

Installation message
After the installation, you should obtain the corresponding success message.
You can then proceed immediately with the configuration of the Extension.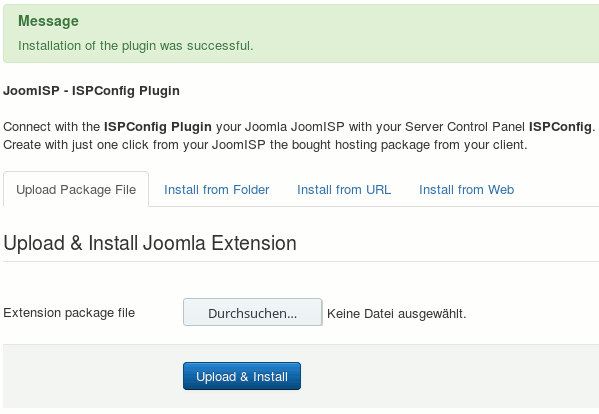 Plugin activation
Go to Extensions → Plugins → Search for the new Plugin and activate if not yet active.