Time is passing, bew year just began, now we have Easter again.
Reason enough to release a more comprehensive Update for JoomISP and surprise our users with a small Easter gift.
40% easter discount for the JoomISP Extended Package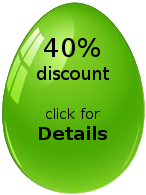 In the week before Easter from Sat. 08.04.2017 you can get 40% coupon codes for the JoomISP Extended.
You can find more information about the Easter Discount 2017 on the home page, or simply by clicking on the Easter egg.
PS. Also sharing this page in your social media channels is worthwhile for you!
JoomISP v1.9.8 Update
After the last update a few weeks ago, finally also some useful optimizations like:
optimization of vouchers in the administration
general enhancements to the redirects after Apply, Save, or Cancel functions
further adjustments according to the Joomla! 3 MVC
Just read more in the Changelog.
AcyMailing & gSales Plugin Updates
The two plugins required adjustments for the new plugin handling of the main component. This will also recognize missing plugins in the future and display hints instead of unsightly error messages.
ISPConfig Plugin Update
The ISPConfig Plugin now controls the corresponding versions directly via the API. It is also compatible with the current ISPConfig 3.1.2.